The ACE02 Kit: Your powerful ally fastening ring16 c-clamps
The ACE02 Kit is your ultimate companion for quick and effortless fastening jobs. This powerful and durable kit provides everything you need for securing gabions, fencing, cages and even mattresses. Be inspired by the versatility and ease of use of this high-quality tool.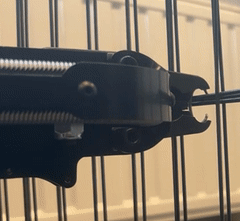 Key features:
Easy to use: The ACE02 Kit is designed with ease of use in mind. Even if you are not a professional, you will notice how effortless and intuitive this kit is.
Designed for professionals: Professionals will appreciate the reliability and precision of this kit. It is built to handle even the most demanding tasks.
Powerful and durable: This kit is built to last. With its rugged construction, you can count on reliable performance time after time.
Rechargeable: Thanks to the rechargeable 18V batteries, you can concentrate on your work without interruptions. The kit comes with two batteries and a convenient charger.
With belt hook: Always carry your ACE02 Kit within easy reach with the convenient belt hook.
Complete package: The kit comes in a convenient carrying case and features a carrying strap for added carrying comfort. Also, the kit comes with 2 18V batteries and a charger. Everything you need is at your fingertips.
Impressive performance: On a full battery you can attach between 1200 and 1500 C-rings, allowing you to work efficiently and effectively without constantly having to change the battery.
Ring16 ring clamp compatible: This kit is optimized for use with Ring16 ring clamps, giving you the best possible fastening results.
Invest in the ACE02 Kit and discover how easy c-ring staple fastening can be. Order now and make your fastening jobs a lot easier and more efficient!
Technical details
Type of fastener

Ring 16

Weight

3.0 KG


Operating pressure
Battery
Empty fire protection

no

Dial-a-depth

no

Quick release nose plate

no

Fires as

Single shot

Type of loading

rear loader

Belt hook

Yes

Carrying case

Yes

Bottle of tacker oil included

no

Safety glasses included

no